Stainless Steel V2A / V4A
Stainless steel sprinklers are used when brass sprinklers do not suffice because of the material.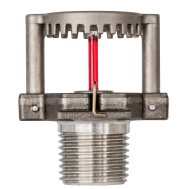 Almost the entire EuroSprinkler range is available in stainless steel V2A and V4A quality. The spray sprinkler range, the dry sprinkler and the flat spray sprinkler are available within 1 to 2 weeks as the components are in stock. Conventional and side wall sprinklers are available in approximately 6 weeks.